| | | |
| --- | --- | --- |
| | Mike Schuler & Bob Trumbley | |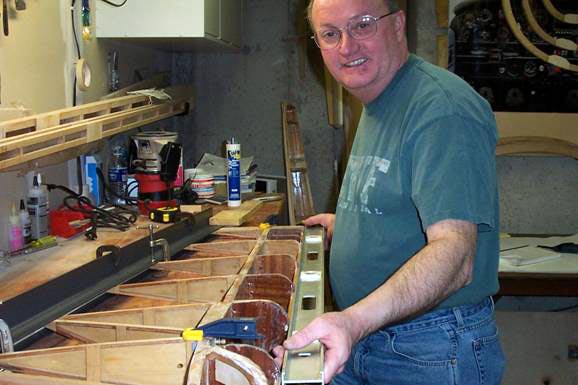 | | | |
| --- | --- | --- |
| | Bob Trumbley working on the rudder leading edge. | |
Prior to making the commitment, I spent several hours with Jack Weibe reviewing the construction process and getting a feel for what to expect. Jack's Falco is absolutely beautiful; anyone who might have had the opportunity to see this airplane at Oshkosh or Sun & Fun will know what I mean. So I began my Falco project in the fall of 2002 with the purchase of the drawings from Sequoia Aircraft and subsequently was able to acquire the fuselage frames and tail group from a builder who had decided not to proceed with the project. I was also able to acquire the wing ribs from another builder who, in his acquisition of material, had doubled up on some of the parts and was therefore selling off the surplus components. I began by making many of the hinges after spending considerable time in sourcing the right materials. Like any other home-built project, it had to compete for attention, what with family life, business, a summer cottage which has now been winterized, flying of a Piper Warrior C-GNFI hangered at Burlington Airpark (CZBA) in Burlington Ontario about a 15 minute drive from my home in Oakville in which I am a partner, and other various and sundry activities.
A friend of mine, Bob Trumbley, accompanied me to Oshkosh in 2003 and attended the Falco dinner there. The hook was set! He, as of February 2004 is a partner in the project. Already this has made a big difference; two heads are better than one and there is a synergy from which we have seen immediate results. But we make no prediction on when this airplane will be completed. Been there, done that! We plan to enjoy the trip.
I had an opportunity to fly with Mike Weibe in his and his Dad's beautiful Falco and was truly impressed with its handling; crisp, responsive, fast. Did I say fast? Fantastic! This reinforced my decision that the Falco is the airplane to build.
Mike Schuler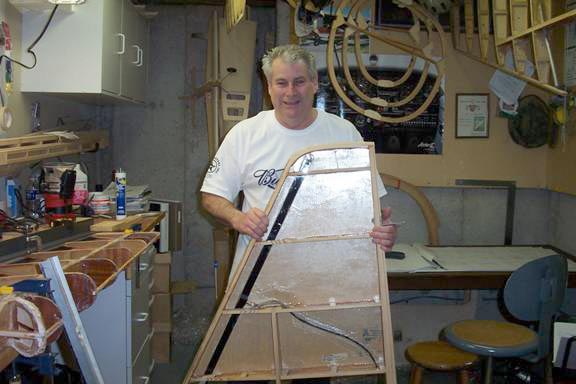 | | | |
| --- | --- | --- |
| | Mike Schuler with the fin skinned one side and the com 1 antenna installed. | |
Michael Schuler is an industrial/commercial realtor with Coldwell Banker Commercial. His home address is 1111 Mayfair Road, Oakville, Ontario, Canada L6M 1G6. Home: (905) 336-9163, Office: (905) 338-8877 x 227. mschuler@cbci.ca
Bob Trumbley is an industrial/commercial builder with Trumbley & Hampton Inc. His home address is 6239 Camgreen Circle, Mississauga, Ontario L5N 4M5. Cell: (416) 258-1424, Home: (905) 567-8537, Office (905) 755-8868. bob@trumbleyhampton.on.ca
Photographs