Kit No. 805
Control System Equipment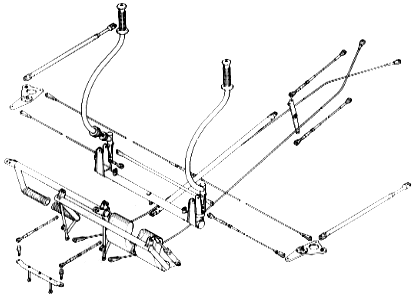 All components for a complete installation of the control system.
This kit includes the control sticks, control stick connecting rod, control stick support, rudder pedal assemblies, brake pedals, nose gear steering arm, aileron pushrods and fittings, elevator pushrod and fittings, aileron bellcranks, elevator bellcrank, cable assemblies and all required hardware.
The right stick is removable in flight with no tools to allow for freedom of movement by the passenger. Brake pedals are provided to the pilot. Cable assemblies are supplied with all fittings swaged in place and ready for installation. Brake cylinders are not included in this kit.
Many components are welded from 4130 normalized steel sheet and tubing. For corrosion protection, the steel components are painted with zinc chromate primer or black enamel. Aluminum components are machined from 2023-T3 or 2024-T4 aluminum and are alodine coated for corrosion protection.
Bronze busings and machined steel components are cadmium plated. Control cables are stainless steel with stainless steel end fittings, and all control cable assemblies bave been proof-tested after swaging. Brake pedals are 356-T6 aluminum castings which have been machined and black anodized.
Go back to Falco Kits