Kit No. 810
Landing Gear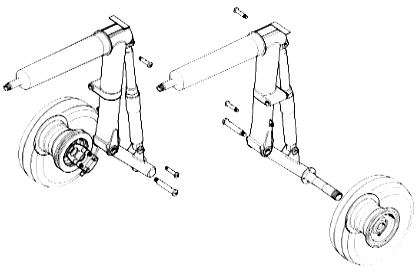 All components for the installation of the main landing gear.
This kit includes the main landing gear legs and arms, the oleo shock absorber strut assemblies, arm pins, oleo strut pins, oleo valves, axle spacers, seal rings, wheel, brakes and all required hardware. The wheels are Cleveland 5.00x5. Tires and tubes are not included.
The landing gear leg and arm are welded-and-machined 4130 normalized steel painted with zinc chromate primer for corrosion protection. The bronze bushings for the landing gear arms are installed and honed to final size.
The oleo shock absorber strut is suppled completely assembled. This strut is a displacement-type air/oil shock absorber. The lower cylinder is machined 2024-T4 aluminum with alodine coating. The piston is 4130 normalized steel with a hard chrome plate finish. The oleo nut is machined, cadmium-plated SAE 660 bronze. The oleo strut pins and arm pins are machined from heat-treated 4130 steel, cadmium plated, and grease fittings are installed.
The landing gear is designed to withstand landing loads of 5gs.
Go back to Falco Kits