Kit No. 813-3
Cowling Jig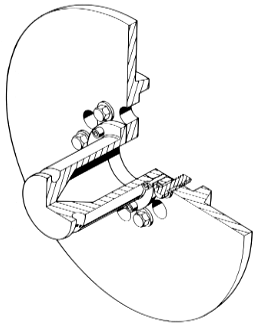 The cowling installation jig.
The machined aluminum cowling jig is bolted to the engine propeller flange. A weight is suspended from the jig to duplicate the weight of the propeller.
On installation, the upper and lower cowling are clamped to the cowling jig, either separately or together. The jig precisely positions the cowling while the cowling is trimmed and fasteners are installed.
This jig allows the cowling to be installed quickly and easily. The jig will work with the 150/160 hp 320-series engines as well as with the 180 hp 360-series engines.
After the cowling is installed, the cowling jig is returned for a full refund. The only cost is the shipping expense.
Go back to Falco Kits