Kit No. 814
Seats & Equipment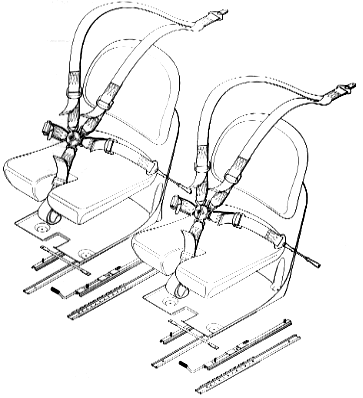 All components for the installation of the seats, seat tracks and harness.
This kit includes the seats, seat cushions, five-point harness, seat tracks, fittings and all required hardware.
The seats are of fiberglass-foam sandwich construction. The seat tracks are of stainless steel construction with 4130N stell adjusting mechanism. The notched keeper is machined from 2024-T3511 aluminum extrusion and anodized for corrosion protection.
The harness is a Pacific Scientific five-point system, featuring a rotary buckle. This buckle allows for each belt end to be individually inserted into the buckle without the need to assemble all best ends together as is common with most aerobatic harnesses. The lap belts are secured to the airframe by stainless steel cable assemblies. The crotch strap is secured to a 4130N steel tube which is installed between the seat and the seat tracks.
The system is designed to withstand 40s loads in the event of a crash.
The seats are quickly removable for easy maintenance of the aircraft.
Go back to Falco Kits